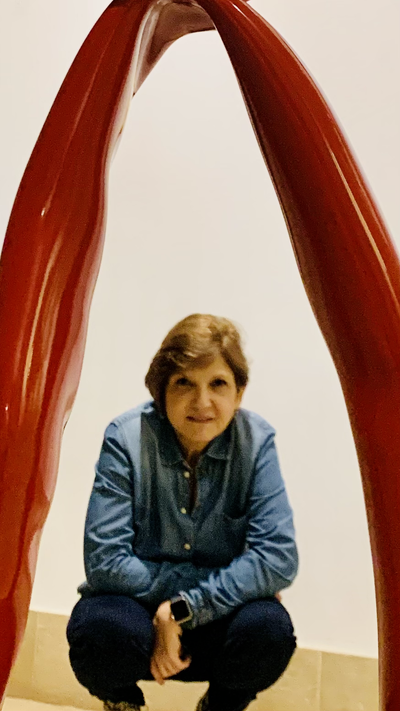 Lina Maalouf Husseini ( Beirut, Lebanon 1965 ) is a self-taught artist. She graduated from the American University of Beirut, (major Public Administration).
Passionate about contemporary art, a thirst for creativity and spontaneous art inspires her.
Through her works, she expresses an intuitive and a singular art.
Husseini's brightly colored sculptures loop and swirl around themselves, eclipsing and challenging academic rules and regulations. Exuberant in their presentation, the pieces take on a life of their own as they become characters in playful display.
Husseini's sculptures of metal, wood, clay, acrylic, glass, and PVC wind and unravel, twirl and cross back and forth conveying a sense of joyful buoyancy. Husseini grew up in Lebanon and France–her work expresses a transcendence of East and West as her influence stems from both. As such, her repertoire has been shown in Beirut, Lebanon, where she lives, as well as France and the US. Beginning her self-taught practice using papier-mâché, she built on these skills to explore various mediums playing with material, color and composition. She uses her practice to take everyday materials out of context, challenging cultural notions of use value and the quotidien and using her work to signal an optimistic transcendence of the human arenas of politics and society. Husseini lets her intuition inform her practice, eluding labels and evading classification.